Brand: MELISON
Product origin: CHINA
Delivery time: Within 15 business day after advance full payment is received
Supply capacity: 20 sets/month
1.(1) Internal structure: ATWL-F, wall and top surface use porous aluminum-plastic plate or decorative cotton, ground use carpet, stable structure, fine sound insulation effect, detachable, removable.
(2) External structure: steel plate shield, visual glass observation window, professional soundproof door.
2.(1)Size:3*3*2.5m
(2)Professional soundproof door.
(3) Visual glass observation window.(900mx700m)Can be customized on the basic of customer needs.
(4)Independent exhaust system: an indoor air outlet, a silencer, an exhaust fan.
(5) A adapter(12 holes), several tielines.
(6)A power socket.
(7) A exhaust system switch.
(8) A lighting switch.
(9) A lighting fixture.
(10) A set of equipment hook.
When the noise of the room ≤ 55dB, noise in the audiometric room ≤ 26dB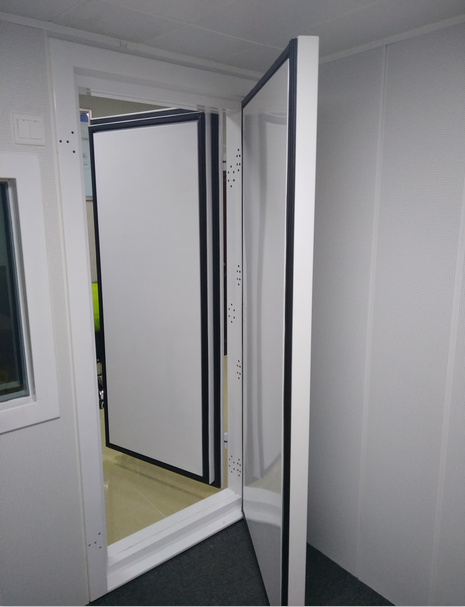 Sound Booth
1. (1) Internal structure: ATWL-F, wall and top surface use porous aluminum-plastic plate or decorative cotton, ground use carpet, stable structure, fine sound insulation effect, detachable, removable.
(2) External structure: steel plate shield, visual glass observation window, professional soundproof door.
2. (1)Size: 3*3*2.5m
(The above three is the reference dimension, the size Can be customized on the basic of customer's requirements.)
(2)Professional soundproof door.
(3) Visual glass observation window. (900mx700m)Can be customized on the basic of customer needs.
(4)Independent exhaust system: an indoor air outlet, a silencer, an exhaust fan.
(5) A adapter(12 holes), several tielines.
(6)A power socket.
(7) A exhaust system switch.
(8) A lighting switch.
(9) A lighting fixture.
(10) A set of equipment hook.
When the noise of the room ≤ 55dB, noise in the audiometric room ≤ 26dB
Packaging and Transport:
1)Audiometer booth with wooden board packaging,
2) Audiometer with Aluminum foil box and Product packing box.
3)The packing detail according to the client's requirements.
4)The mode of transport according to the client's requirements.
Like,Ocean Freight,Air Freight,Express,Door To Door,and etc.
Delivery Detail: After confirmed the order 5-15 days.
Payments: VISA,T-T, Western Union and etc.
Transport: Carton , Pallet and etc.
Our Services:
1.MOQ: One piece.
2.OEM accept: We can produce as client's demand
3.Good Quality: We have the professional R&D team and after-sales service team.
4.All products purchased in our company have a one-year warranty,