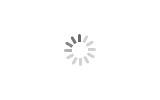 Screening Audiometer
Brand :MELISON
Product origin :CHINA
Delivery time :Within 5 business day after advance full payment is received
Supply capacity :200 sets/month
AD105 technical specifications
Channel:Two independent signal channel and masking channeFrequency: Air conduction and free sound field 125-8000Hz; (Bone conductio250-6000Hz)Masking: Pure tone test, white noiseSound pressure rang
HZ AC BC
125 -10~90
250 -10~100 -10~45
500 -10~120 -10~60
750 -10~120 -10~60
1000 -10~120 -10~70
1500 -10~120 -10~70
2000 -10~120 -10~70
3000 -10~120 -10~70
4000 -10~120 -10~60
6000 -10~110 -10~50
8000 -10~110
Output interface: Air conduction earphone、Bone conduction earphone、free sound field
Standard function: Pure tone test.Provide continuant、pulse voice and warble tone
Normal: Press INT to start sound stimulate
Inversion: Press INT to stop sound stimulate.5dB step and 5dB step continuous
attenuation,1DB error.
Distortion: Air conduction: <2.5%; Bone conduction: <5%
Operation Environment:
Temperature + 10 °C-+ 35 °C, air temperature 30%-90%,
Air pressure:860hPa – 1060hPa
Preheating time: Less than 10 minutes
Size: W×H×D=430×300×70 mm
Weight: About 6.5 kg
Power supply: 220VAC, 50Hz
Maximum power : 60VA
Executive standard: EN60645-1, EN60645-2,EN60645-4,and ANSI S3.6-1996
Safety standard: EN 60601-1, Level 1 class B EN 60601-1-2;EN 60601-1-4
Standard accessory: TDH39 Air conduction earphone, responder, power line
Packaging and Transport:
1)Audiometer booth with wooden board packaging,
2) Audiometer with Aluminum foil box and Product packing box.
3)The packing detail according to the client's requirements.
4)The mode of transport according to the client's requirements.
Like,Ocean Freight,Air Freight,Express,Door To Door,and etc.
Delivery Detail: After confirmed the order 5-15 days.
Payments: VISA,T-T, Western Union and etc.
Transport: Carton , Pallet and etc.
Our Services:
1.MOQ: One piece.
2.OEM accept: We can produce as client's demand
3.Good Quality: We have the professional R&D team and after-sales service team.
4.All products purchased in our company have a one-year warranty,

Please feel free to give your inquiry in the form below. We will reply you in 24 hours.